Expert Lawn Disease Control out of Sterling Heights
After spending countless hours caring for your lawn, there's nothing more frustrating than finding brown patches of grass. Proper lawn disease control starts with correct diagnosis before treatment can begin. At Ecoturf Lawn Care located in Sterling Heights, we are experienced in the identification and management of lawn pathogens.
Many insects can have a negative impact on your lawn. At Ecoturf Lawn Care, we watch for all signs and factor timing with historics to make sure that we diagnose the problem before it happens. Fortunately, we have a treatment for every lawn damaging insect your lawn could face. If you ever notice a change in your lawn, please give us a call and we will be able to diagnose the problem before it is to late. Grubs, Sod Webworms and Chinch bugs are very easy to diagnose and control. So remember, to call us at 586-884-6757 before the problem becomes to severe.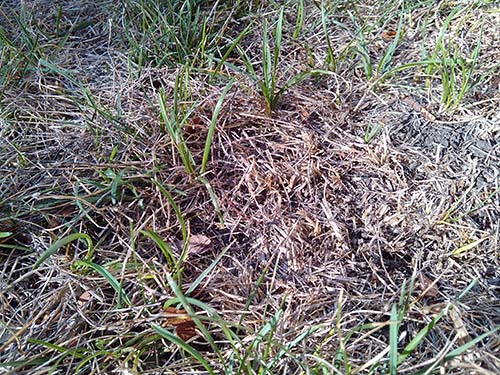 Like insects, your lawn can be impacted by disease. Most disease can be avoided with proper fertilizing and cultural practices. Proper mowing, watering and annual core aeration will greatly reduce the potential for lawn diseases. Also like insects it is important to always call Ecoturf if anything looks out of the ordinary. Our skilled team is proficient in the analysis of contaminated grass, and we are sure to have the right treatments for you, regardless of what the problem is.
Dollar Spot
Snow Mold
Leaf Spot
Powdery Mildew
Rust
Red Thread
Necrotic Ring Spot
Brown Patch
Ascochyta Leaf Blight

Get Your Healthy Lawn Back Today
The last thing that you want to deal with all summer is the inability to use your yard due to grass illness. With our premium lawn disease control, you'll be free of that irritating organism in no time. Proudly serving Sterling Heights, St. Clair Shores, Rochester, Macomb, Warren, Utica and all of Macomb County, our exceptional lawn service is unbeatable. Get your free quote by contacting us today at 586-884-6757.